BAROQUE Chantelle Embroidered Collection vol3 2017 - The Duchess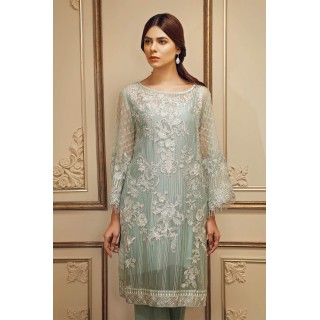 3 Pc Suit.
Embroidered Front 0.70 Yard
Embroidered Sleeves 0.75 Yard
Embroidered Side Panel 0.36 Yard
Embroidered Front and Back Patch 2.00 Yard
Embroidered Sleeves Patch 1.10 Yard
Plain Back 1.00 Yard
Embroidered Duppatta 2.75 Yard
Trousers 2.50 Yard
Please note that the colour of the item you receive may vary slightly from that shown in the listing picture. This can happen due to the variation in light at time of photography. Things like Lace, Piping or Embellishment might not be included unless stated in the description.
MEASUREMENTS: Please provide all measurements in inches. The dress will be made according to your size so please be as accurate as possible when giving sizes. If you need help, please click on our 'Size Guide' above.
DELIVERY: Unstitched … Can be delivered within 7 days. Made-to-Measure … Can be delivered within 10 - 15 days.